Thena's Story
After studying vocal jazz under 9-time Grammy nominated Tierney Sutton at the USC Thornton School of Music, Thena went on to work with Grammy nominated writer/producer Busbee, Taboo (Black Eyed Peas), Will Gray, John Beasley and Quincy Jones III, to name a few.
In 2008 Thena's long-time mentor Tierney Sutton invited her to take on a teaching position in the vocal department at the Los Angeles College of Music. Thena accepted, and went on to found and head the Songwriting Program, head the Mentorship Program, and teach Vocal Performance, until the birth of her second child in 2013.
In 2012 Thena's songs were finalists in both the International Songwriting Competition (ISC), and Chris Tomlin's FQ Worship Songwriting Event. The same year, Thena and her husband Ted released their collaborative album entitled Something of Tomorrow, under the name "The Beams."
Thena has four self-released albums to date and is a member of ASCAP. She has relocated to the Sacramento area with her sweet husband and two boys, who are the joy of her life.
To hear about the spiritual side of Thena's journey, read this blog post
Thena Wins Be Still Media Competition
It goes without saying that 2020 has been a year like no other. After I released my song "America," a friend reached out to me to suggest I enter the Be Still Media Competition. She figured the prize money would be a good way to raise funds for my album project. I looked into it, but when I saw that the deadline was less than a month away, I doubted whether I could create something to fit the prompt "Mentors" in time.
Then, on September 17, my dear friend Elsa passed away after several weeks of struggling for her life with Covid-19. The following week, after attending her memorial, which was streamed online from Tennessee, I was flooded with emotion as I reflected on all Elsa meant to me, and how profoundly her life affected mine. That night, "Kingdom Come" flowed from me, as I attempted to process her death. I hope this song conveys that great sense of loss on the one hand, while also pointing to the longing for what is to be gained on the other side of grief.
Along with my song submission, I also included a watercolor of a geranium I painted during the Covid lockdown. The vibrance of the color, set off by the darkness surrounding it, perfectly reflects my feelings about Elsa. The beauty of who she was is contrasted against the trials she endured in her physical body – as frail as a flower.
Elsa always encouraged me to make music, so it's fitting that my parting gift to her is a song. I still have the little wooden painted heart she gave me that reads, "Sing for joy, Thena!" And I do have joy in the midst of sorrow, as I look and wait for God's Kingdom Come.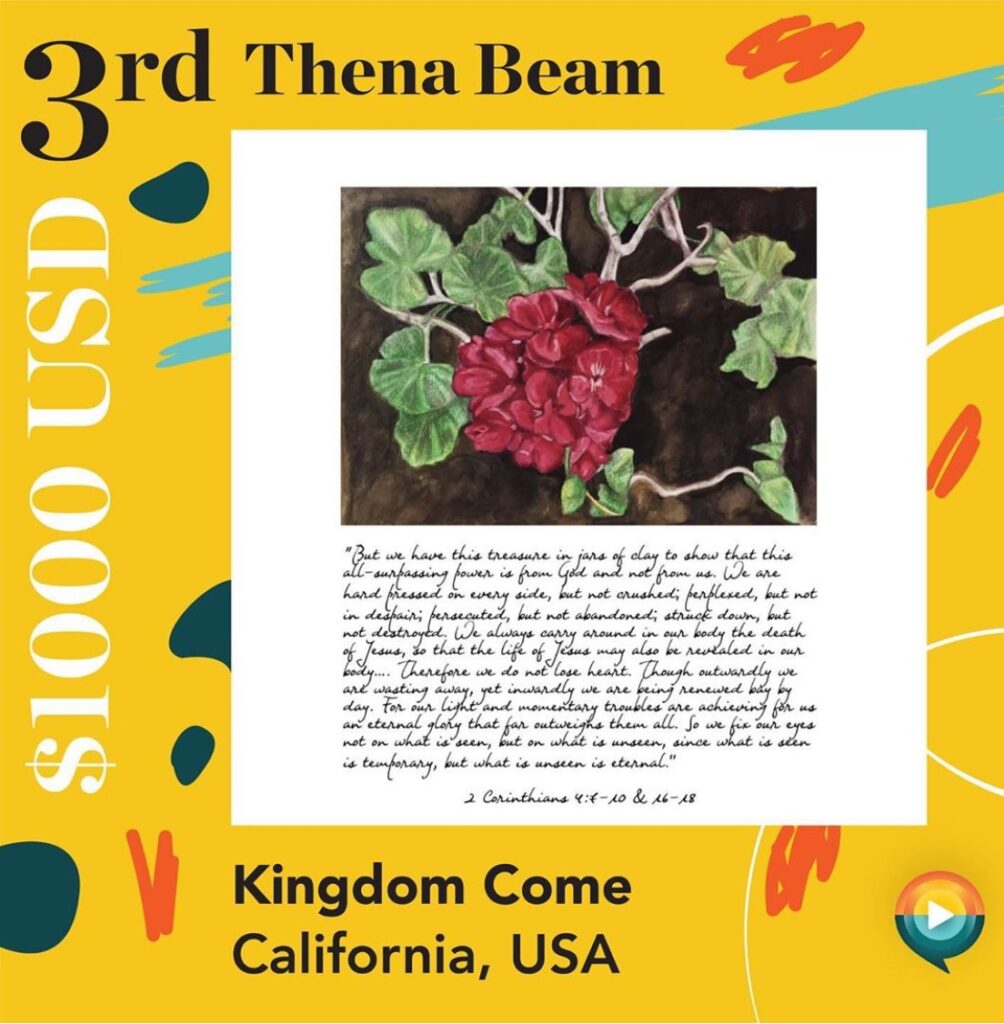 Tennessee Performances
In September of  2018, Thena was thrilled to perform in 2 very special concerts in Chattanooga, Tennessee. The first was a celebration of the music ministry of James Ward, and the second was a concert of original material, showcasing Thena's music from the past 2 decades, and featuring her violinist, Natalie Calabretta.
The Beams Album
Thena and Ted's long-awaited collaboration The Beams – Something Of Tomorrow is finally here! To check out the album, click HERE. Thanks again to all our amazing fans and Kickstarter supporters – we couldn't have done it without you!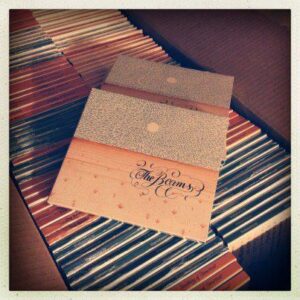 The Beams Music to Benefit Red Cross Japan
Thena and Ted are thrilled to have their song "California" as the starting tune of on the newly released "One Heart Japan Vol.6 SONGS FROM L.A." All proceeds from the album will be donated to the Red Cross of Japan, to aid in efforts for repair from damage caused by the tsunami. "California" is a track from the Beam's upcoming album "Something of Tomorrow." To listen and/or purchase the song/album, go here.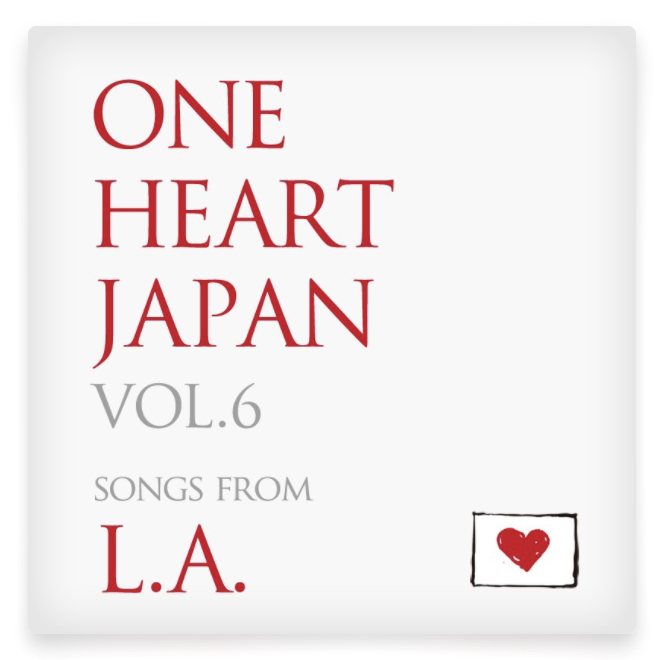 Thena's Songwriting Featured on Sony MP3 Player
The song "Fall," co-written by Thena and the very talented Japanese singer-songwriter Mayu Wakisaka, is now the featured free-download on Sony's MP3 player in Japan.  We are thrilled that folks who purchase this device will get a chance to hear some of Thena's songwriting!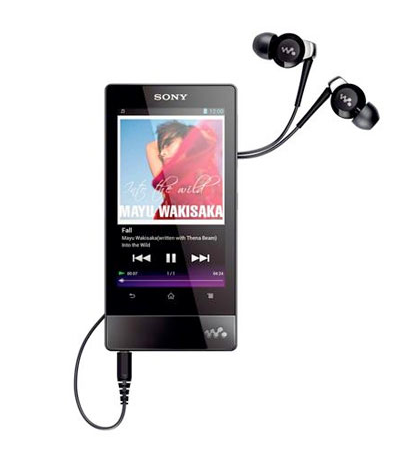 Thena a finalist in International Songwriting Competition
Thena's song "Man Of Sorrows" was a finalist in ISC, the largest songwriting competition in the world, in the Fall of 2012. Her song was selected out of 16,000 entries in the gospel/christian category.
Thena a finalist in FQ Worship Songwriting Event
We are thrilled to announce that Thena's song "Not By Might" is a finalist in the FQ Worship Songwriting Event. The contest is a Chris Tomlin project, whose goal is to find great worship songs and get them out there for people to sing. A special thanks to Laura Scott Knaak for her amazing vocals on this duet.
Man Of Sorrows to Air on 90+ Stations Worldwide
We are thrilled to announce that Thena's song Man Of Sorrows will be airing on Lifetalk.net on Sunday, April 15, at 8:00 p.m. Pacific Time! The show can be listened to via live streaming online at www.lifetalk.net., or on 90+ stations worldwide (click here to view the station list). The song will probably play closer to 8:30, so be sure to tune it to support Thena and hear the song!
The Beams Kickstarter Campaign: Successfully Funded
Ted and I want to send a huge THANK YOU to everyone who backed the Kickstarter Campaign for our new album Something of Tomorrow. The project was successfully funded, and not only reached, but exceeded our goal! Thank you all so much for believing in us, and for partnering with us in this endeavor. We believe our music has the power to touch people and speak to hearts, and we are honored that you believe in what we do. We have truly been humbled by the love and support we have received, and are grateful that we will now be able to make this album more than just a dream. THANK YOU!